Local Health Data and Resources
Below is the local flu data for the 2022-2023 Flu Season for Genesee and Orleans Counties.  
The 'official' 2022-2023 flu season has ended, however it is still important to remember to limit the spread of disease by staying home if you are ill.  The data will be updated when the 2023-2024 flu season is declared sometime in the fall.
For New York State data, please click the links below in the dropdown 'NYSDOH – Influenza (Flu).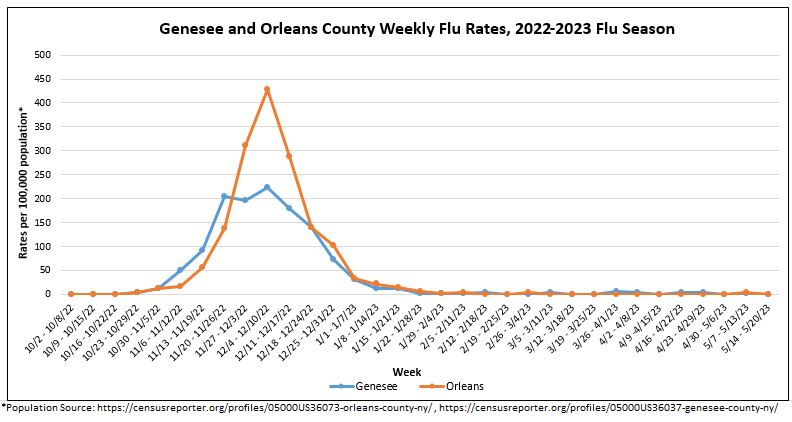 For population data source for Genesee County, click here. 
For the population data source for Orleans County, click here. 
GO Health Documents and Resources
 Peer-Reviewed Journal Articles
Bedard BA, Penrose E, Pettit PA, Voos KN, Ohlson K, Wahls C, Shuknecht K. "HPV Vaccination Status and COVID-19 Symptomatology." Annals of Clinical Medicine & Public Health (2021).  
Bedard, Brenden A., Paul Pettit, Sarah Baldulf, and Kristine Voos. "Hepatitis A Vaccination of Food Service Workers in Genesee County, New York." Journal of Environmental Health 84, no. 2 (2021): 26+.
Bedard BA, Pettit PA. Local Health Departments Cross-Jurisdictional Partnership for Contact Tracing for COVID-19. J Allied Health. 2020 Fall;49(3):228-229. PMID: 32877482.
Bedard B, Pettit P, Messmer ME. Pharmacy and local health department partnership to increase community immunizations. J Am Pharm Assoc (2003). 2019 May-Jun;59(3):305. doi: 10.1016/j.japh.2019.01.003. Epub 2019 Feb 22. PMID: 30803916.
Bedard BA, Voos KN, Pettit PA, Ferris CL, Balduf SR. A Salmonellosis Heidelberg Outbreak Traced to Roast Beef Served By Caterer. American J Epidemiol Public Health. 2018;2(1): 010-013.
Bedard BA, Younge M, Pettit PA, Mendoza M. Using Telemedicine for Tuberculosis Care Management: a Three County Inter-Municipal Approach. J Med Syst. 2017 Nov 27;42(1):12. doi: 10.1007/s10916-017-0872-7. PMID: 29181590.